Get up to speed with System Simulation
System simulation is a valuable tool in design, verification, and validation. We have extensive experience in simulation and can help you take your system simulation initiatives to the next level:
Seminars about system simulation
Design of processes and workflows
Selection of tools and solutions
Engineering services and modeling support
Contact us to benefit from our experience today.
Why System Simulation?
Sustainability and productivity goals create a need for businesses to renew their way of working in development and manufacturing. To increase productivity, companies must adopt a more agile way of working. And lower costs, both concerning time and money. They also need to deal with the increasing complexity of systems and break data silos. To meet the sustainability goals, they need to optimize the performance and efficiency of products and processes. And improve the quality to reduce the need for maintenance.
To meet these challenges, we need to pose new requirements on the tools we use. System simulation goes hand in glove with these requirements. It's the perfect match to support the design, optimization, and operation of products.
The method allows you to test new concepts and improve existing designs. It helps you reduce the need for physical testing of processes and PLC code through virtual commissioning. It simulates fast and is easy to deploy. System simulation will help you reach your sustainability and productivity goals in no time.
How Does It Work?
System simulation allows you to rapidly model complex mechatronic systems, perform parameter studies, and simulate "What if"-scenarios. One of the most common technologies used to achieve this is Modelica. Modelica is an open, equation-based, modeling language supported by a large variety of tools, both open-source and commercial. Its multi-domain capabilities make it possible to capture the dynamic behavior of any physical domain, including Fluid dynamics, mechanics, electrical, thermal, etc.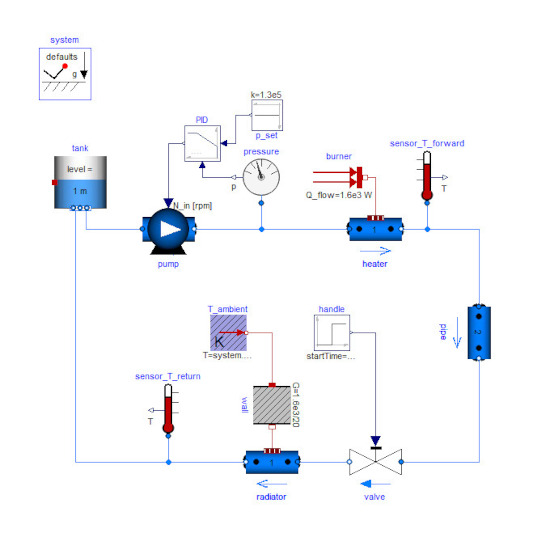 The open nature of Modelica offers great flexibility and scalability where the same models can be employed for multiple purposes. Models are represented both graphically and in code and are easy to adapt to fit specific needs. Deployment of models is straightforward using the Functional Mock-Up Interface (FMI).
Contact us to learn more about how we can support your business.